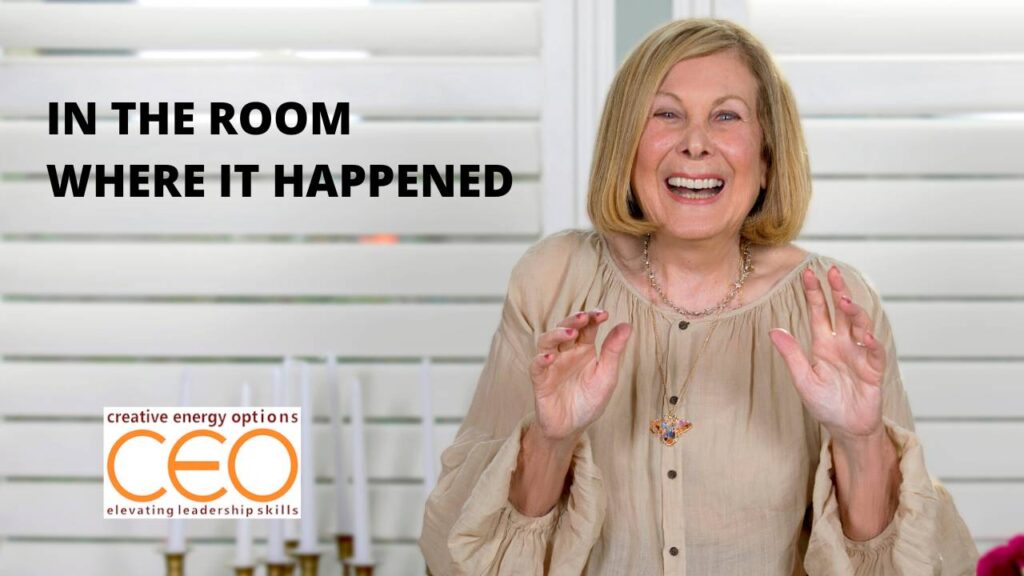 Leaders need to know about where they started to know where to go now #leadership #culture #communication
Hi, everybody. Sylvia Lafair here, with a tip for Tuesday and I have a question. Do you know where you were in the room where it happened? You know, Hamilton's success has brought that song to everybody's mind. I want to be in a room where it happened while we were in the room where it happened. There are two rooms I'm talking about right now. One is where you were conceived. And it's a powerful concept to understand what happened at that moment when the sperm and the egg met and it became a you as the nine months went on.
We'll talk about that in a minute. But the second place, the other room where it happened was the delivery room or the back of a taxi cab or a home birth, wherever you were. Those two areas are so critical to all of us, not just to women, to all of us, because when we understand what was going on in the room where it happened, we have a better sense of where to go now and what to do.
And we are not taking people down deep enough to look at some of these things that have created blocks, that have created overwhelm, that have created self-doubt, that have created the imposter syndrome that lives in us. But much of it happened in that room back then. And I'd like to throw out an idea just kind of imagined idea. John Lennon imagined idea. What if every child conceived was conceived in love? Every child conceived was provided for and wanted in this world.
Just what if. And what if we had no more abuse, and what if at the time, those nine months between conception and birth or whatever period of time there is? What if there were some skills that were taught to people? I know I was 24 when my first child was born and I had no skills. You know, I didn't know what to do. I mean, I was trained and taught the youngest in my family, so I didn't have any younger siblings to look at.
But what if there were some kind of healthy education, generic, universal in this country as part of the whole process from being in that room where it happened to getting ready for the room, where it happens because the birth process is a powerful, important place. So, I love to hear your stories about what it was like, as you obviously didn't know too much, but what it was like as you go back and ask what happened in those two rooms.
Those are the two key rooms that we need to look at. So let's keep going. Let's keep growing. And I'd love to hear your comments about where you were and what you learned even now as you go back and talk to somebody and find out. It's really important. Thank you. Have a beautiful day and a beautiful rest of the week.